International study programme
Double Master's Programme in Economics
in cooperation with Keio University in Tokyo
Key facts
Partner:
Keio University in Tokyo, Japan
Programme structure:
First year at the University of Cologne, second year at Keio University
Degrees:
Master of Science (M.Sc.) in Economics from the University of Cologne
Master of Arts (M.A.) in Economics from Keio University
Duration:
4 semesters
Start:
Fall term (October in Cologne)
Language:
English
Fees:
Students pay a social contribution at the University of Cologne for the duration of their studies (approximately €295 per semester, including a public transport card). Students are exempt from paying tuition fees at Keio University.
As a student of the Double Master's Programme in Economics, you benefit from the expertise of two top-ranking universities. You spend one year studying at the University of Cologne and one year at Keio University and will graduate with two master's degrees: a Master of Science in Economics from the University of Cologne and a Master of Arts in Economics from Keio University. The programme is integrated into these degree programmes and incorporated courses from both. It is based on recognition of credit points and includes a master's thesis, which you will write during your second year of studies.

Programme
Economics is the study of how governments, companies, institutions, households and individuals allocate their limited resources. During the study programme, you acquire broad methodological expertise and knowledge of a variety of theoretical approaches. You will learn to independently analyse and develop conceptual models to predict responses to changes in policy and market conditions. The international orientation of the Double Master's Programme enables you to learn how to solve complex economic problems in a globalised, interconnected world by considering cross-national connections and effects.

Partner: Keio University
Keio University is a leading university committed to excellence and innovation in education and research. It is located in central Tokyo. The Faculty of Economics of Keio University, has the mission that its graduate students obtain the highest level of economic knowledge and skills towards solving real world problems and to foster talented individuals with advanced professional skills, whether they continue on to research or to a career in business.
Courses
For a better understanding of the study structure: You will study the courses marked in dark green and dark blue. Through the recognition of credit points from the partner university, you can transfer the credits you do not study at the University of Cologne to Keio University and vice versa (marked in light green or light blue). The courses available at the two universities complement each other very well, providing a wide range from which you can benefit greatly. Please consult the UoC course catalogue and Keio course catalogue (English course offer) to get an impression of the courses. There may be minor changes in the course catalogues for upcoming academic years.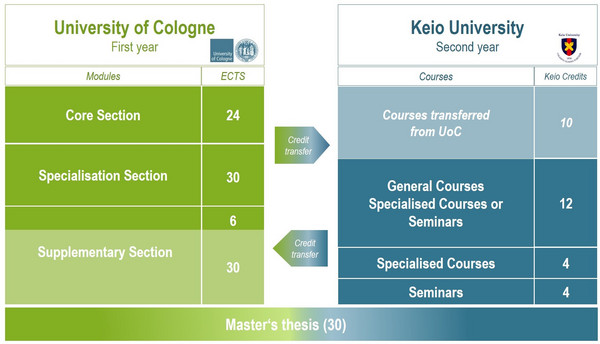 Courses at the University of Cologne
Courses at Keio University
Career prospects
Graduates of the Double Master's Programme in Economics will be well prepared for careers with an international focus. Possible roles include:
positions in public institutions such as ministries, state departments, central banks, agencies and public authorities (such as antitrust divisions or regulatory authorities) or international institutions (such as the OECD, IMF, World Bank or the European Commission);
economic consultant in a government ministry or economic advisor to a political party;
researcher at an academic or research institution;
positions in economic departments of private institutions such as banks, consulting agencies, large industrial corporations, organisations or corporations in the media sector;
analyst in a financial institute or investment banking manager;
in-house economics journalist.
---
Application
---
Contact
Would you like to know more details about the programme? Get in contact with me during my advising hour or anytime during regular office hours by phone.
Programme Management
Xenia Elbrächter, Phone: +49 (0)221 470-7702
Email: wiso-dmp
uni-koeln.de
Advising hour:
Wednesdays, 10am-12pm by phone or in-person. You can schedule an in-person appointment here.