Double Master's Programme in Business Administration with
Finance
in cooperation with Aalto University
Key facts
Partner:
Aalto University
Programme structure:
First year at the University of Cologne, second year at Aalto University
Degrees:
Master of Science (M.Sc.) in Business Administration from the University of Cologne
Master of Science (M.Sc.) in Finance from Aalto University
Duration:
4 semesters
Start:
Winter semester (beginning of October in Cologne)
Language:
English
Fees:
No tuition fee. Students only pay a social contribution at the University of Cologne for the duration of their studies (around €295 per semester, including a public transport card).
As a student of the Double Master's Programme in Business Administration, you benefit from the expertise of two top-ranking universities. You spend one year studying at the University of Cologne and one year at Aalto University and will graduate with two master's degrees: a Master of Science in Business Administration - Finance from the University of Cologne and a Master of Science in Economics and Business Administration - Finance from Aalto University. The programme is integrated into these degree programmes and incorporates courses from both. It is based on recognition of credit points and includes a master's thesis, which you will write during your second year of studies.

Programme
If you would like to set a strong focus on developing your skills in the finance area, you can combine your studies at the University of Cologne with even more finance courses at Aalto University. During the double degree, you will have access to a wide range of courses in financial decision making, corporate finance, asset management, investment banking and financial markets. Both universities focus on a quantitative and analytical approach to solve business problems. The courses available at the two universities complement each other very well, providing a wide range from which you can benefit greatly. Take a look at the course overviews and follow the links to the course descriptions to get an impression of the content of the courses.
Partner: Aalto University
At Aalto University, science and art meet technology and business. The premises just relocated to the brand new beautiful Otaniemi campus located in Espoo, part of the Greater Helsinki area. Aalto University School of Business is the leading business school in Finland and among Europe's top universities in this field. It is well known for its excellent research, close ties with industry and its open, international atmosphere. Aalto is a member of CEMS and the PIM network. The School of Business holds the Triple Crown status (accreditation by AACSB, AMBA and EQUIS), an honor held by only few business schools worldwide.
Courses
You will spend your first year in Cologne studying core method modules and courses of the finance specialisation. In your second year, you will study courses from the master's programme in finance at Aalto University.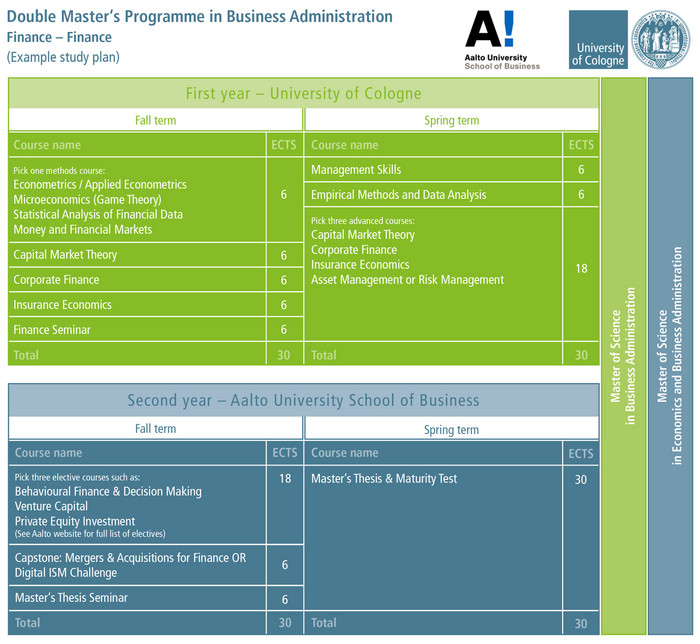 Career prospects
The studies open up wide-ranging prospects for professional careers in the finance sector, within enterprises, banks, insurance companies and other financial service providers, e.g. investment or leasing companies. Potential employers range from start-ups and small or medium sized companies to large and global corporations. Example job opportunities include financial analyst, investment banking, risk management, financial auditor, treasury management, asset and wealth management, consulting or careers in academic research.

Contact
Would you like to know more details about the programme? You may reach out to me anytime by email or during regular office hours by telephone.
Programme Management
Xenia Elbrächter
Phone: +49 (0)221 470-7702
Email: Contact form
Advising hour: Wednesdays, 10am-12pm
For an in-person consultation on campus at the WiSo Student Services, you can schedule an appointment here.

Application
Would you like to know the entry requirements and how to apply? Take a look at our application website.