Das Semesterprogramm im Überblick
Im Sommersemester 2011 gab es wieder viele spannende Veranstaltungen:

Die Veranstaltungsreihe des WiSo-Career-Services mit Vorträgen rund um das Thema Bewerbung und Berufseinstieg, mit Unternehmenspräsentationen und Alumniberichten fand dienstags, 17:45 - 19:15 Uhr im Hörsaal XXV statt.
Career Tuesday im Sommersemester 2011

05.04.2011

Studentische Initiativen zu Gast: OFW- die Unternehmerschule an der Universität zu Köln.
Werde Teil des Organisationsteams

12.04.

Unternehmenspräsentation P&G:
Procter & Gamble - Are you ready to face a new challenge every day?

Eines der weltweit erfolgreichsten Markenartikelunternehmen stellt sich vor

19.04.

Pascal Koppetsch, Deutsche Telekom AG: Ein berufliches Profil entfaltet sich oft nach Jahren, nicht nach Monaten

Yi Zhou Deutsche Telekom AG: Deutsch und international, Operativ und Strategisch, 4 Positionen in 9 Jahren -- Arbeiten in einem internationalen Konzern

03.05.

Praktikumsprogramm für BWL-Erstsemester:
Das Praktikumsprogramm st.i.p. Finance der deutschen Lufthansa AG


10.5.

Unternehmenspräsentation: PwC
Höchste Zeit Bilanz zu ziehen! Ihr Einstieg bei PricewaterhouseCoopers

17.05.

Bewerbungsmanagement:

Bain & Company: How to crack the case
Tipps für die Bewerbung in der Beratungsbranche

31.05.

Chr. Mokwa, McKinsey &Company, Inc. Herausforderung Berufswahl und -einstieg -- Ein Kölner Absolvent berichtet über seinen Weg in die Unternehmensberatung


Frank Schleimer, Coupies GmbH: Vom Student über den Berater zum Unternehmer


07.06.

Unternehmenspräsentation: UniCredit
Our Europe has no boundaries – UniCredit Company Presentation

21.06.

Bewerbungsmanagement:

Christian Richter, select if Personalberatung - Gehaltsverhandlungen -- Wie erreiche ich mein Wunschgehalt

28.06.

Franziska Bopp, Bundesinstitut für Berufsbildung: Europäische Bildungspolitik umsetzen: Arbeiten in der nationalen Agentur für Bildung für Europa

Thomas Schauf, Bundesverband Digitale Wirtschaft e.V. Wie viel bleibt von der Politikwissenschaft? -Vom Idealismus zum Beruf


05.07.

Unternehmenspräsentation: VKG Krankenhäuser des Vereins der kommunalen Großkrankenhäuser Region Mitte e.V. als attraktive Arbeitsgeber


Bericht einer Alumna über die Klinikum Darmstadt GmbH als modernes Krankenhaus der Maximalversorgung -- Chancen und Möglichkeiten zum zukunftsorientierten Berufseinstieg

12.07.

Teach First Deutschland


Siehe auch das gesamte Programm: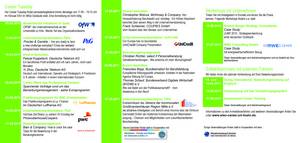 Workshops und Recruitingevents mit Unternehmen
Ob in einer Case Study oder Intensivworkshop zu einem Softskillthema, lernen Sie spannende Unternehmensvertreter und Berufsfelder kennen. Erhalten Sie so Einblicke in Ihr mögliches neues Berufsumfeld.
Folgende Workshops haben im Sommersemester2011 stattgefunden:

10.06.2011 Roland Berger Strategy Consultants
Jump 2015 – Strategieentwicklung einer deutschen Großbank

01.07.2011 RWE Consulting GmbH
Support RWE to select the best acquisition target and to ensure the successful integration
In diesen Softskillseminaren konnten die Teilnehmer ihre Fähigkeiten erweitern:
14.-15.04.2011: Going International -Bewerbungstraining auf Englisch
14.05.2011: Vorstellungsgespräch - Wie überzeuge ich den Personalchef?
21.05.2011: Asessment Center - Vorbereitung auf das Auswahlverfahren
Service Learning verbindet universitäres (Projekt-)lernen mit gemeinnützigem Engagement. Hierbei erworbene Schlüsselkompetenzen sind besonders auch im Hinblick auf den Berufseinstieg wertvoll. Insgesamt stehen 26 verschiedene Engagements - weiter Infos hier.
Auch im Sommersemester 2011 fand wieder eine Career Week des Professional Centers zum Thema "Der Bewerbungsprozess" statt